There are few countries in Africa that can compete with Botswana for safari exclusivity and luxury, as well as abundant wildlife and diverse landscapes. With a population of roughly 2 million, the country is slightly larger than France and slightly smaller than Texas, yet 40% of its land is dedicated to parks and wildlife. Botswana's government has prescribed a high-income, low-volume, low-impact, ecotourism policy, meaning fewer tourists and better protected natural wildernesses. In addition, they have dedicated their army to anti-poaching – one of the reasons the country is such a safe haven for wildlife. In wilderness areas like the depths of the Okavango Delta and its surrounds, not only are the safari camps and lodges more ecologically minded and more symbiotic with their environment, but their owner's efforts, and the government's policies, are helping to preserve the country.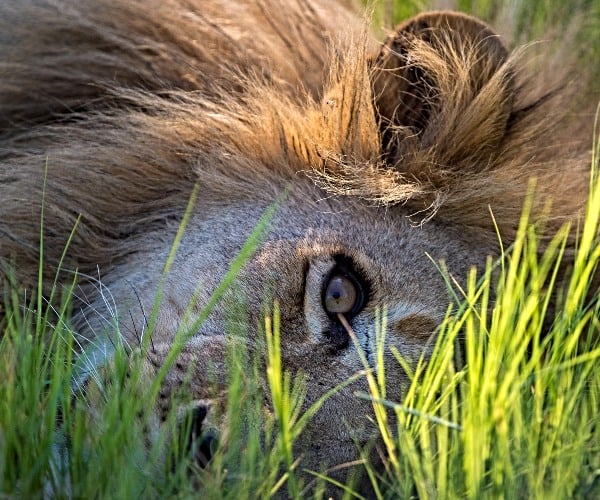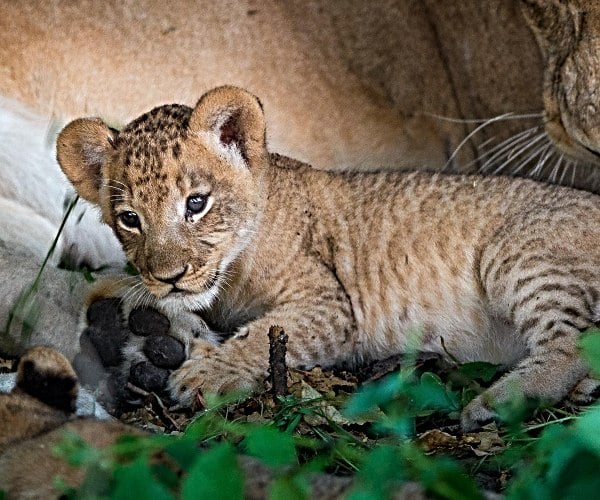 Home to a number of the world's most threatened species and largest elephant population in the world, Botswana has become a wilderness safe haven. What is important when planning a safari here, is doing so with companies who are working to conserve the country for generations to come, by setting standards for sustainable commercial operations.
Synonymous with luxury safari camps, Wilderness was founded in Botswana in 1983, and is now recognised as one of Africa's foremost ecotourism operators. With 60 camps, in 8 different countries, the company actively helps protect 6 million acres of land, and aims to double that in the next decade.
Wilderness, as a company, is best explained in two parts; conservation and hospitality. Through partnerships with trade industries, donors, governments and local communities, they work to protect and conserve the wild places they share with their guests, and their guests positively impact the communities that live on the periphery of these wild places, through conservation fees and employment.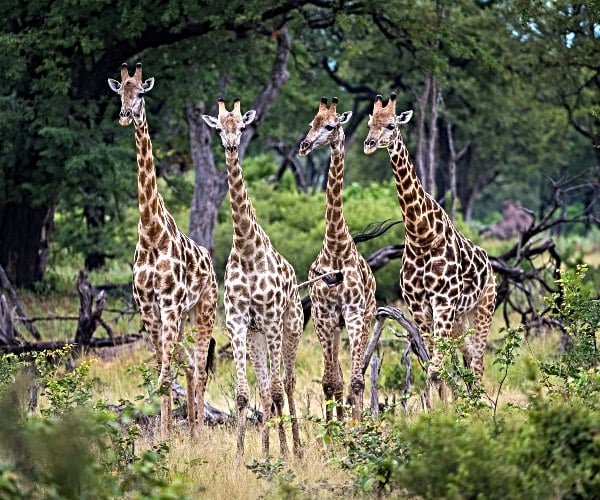 Wilderness Wildlife Trust , a non-profit entity, and the conservation arm of Wilderness, has three main goals – educate, empower and protect. Educate, through scholarship programs, eco-clubs and mentorship programs. Empowerment, through employment and supporting local businesses, thereby reducing local people's reliance on natural resources. Protect, by supporting anti-poaching initiatives and research programmes, and by promoting human-wildlife co-existence.
Established in 2006, Great Plains Conservation is unusual for a safari operator in that it's a hybrid organization, with both commercial and charitable arms. At the company's heart is the creation of conservation projects in threatened habitats, funded by the profits from its safari lodges and camps. Great Plains mission is to balance conservation, community, and commerce in a way that could make a lasting difference in wildlife areas. Taking threatened environments and managing them, using funds from low-volume, low-impact tourism, and proving that commercial operations can positively benefit landscapes when done correctly. Great Plains' portfolio of safari lodges are leaders in sustainability, and guests who visit these camps become agents of positive change.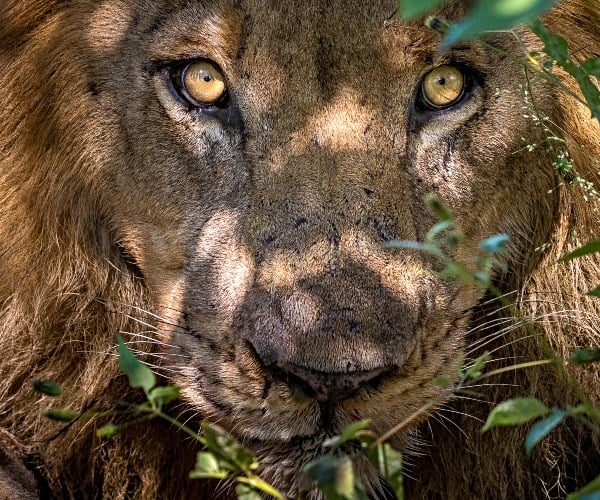 For Great Plains protecting Africa's wilderness is not just a philosophy, but a way of life. The Great Plains Foundation work on projects that include rhino relocation projects, reforestation, conservation education, and children's outreach programmes.
Some 1 million acres are managed and protected by Great Plains Conservation and plans to expand this to 5 million are well underway. Two of the company's founders, Dereck and Beverly Joubert, are multi-award winning filmmakers and National Geographic 'Explorers in Residence', and many of their documentaries have been filmed in the same reserves in which the Great Plains camps are based.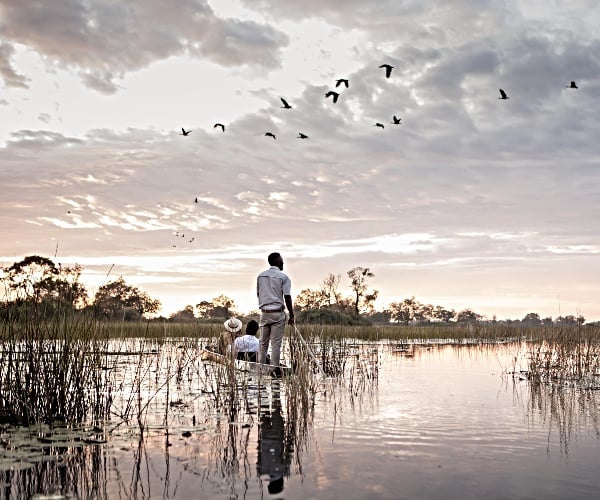 Botswana's Okavango Delta is a 6,177 square mile wetland wilderness in northern Botswana. This one of the largest inland deltas in the world and it teems with wildlife, including elephants, hippos, crocodiles, and rare antelope like lechwe and the shy sitatunga. Predators like leopard and lion abound, and this is one of the best places in Africa to see African wild dog. The delta also boasts over 500 species of birds, making it a birdwatcher's paradise.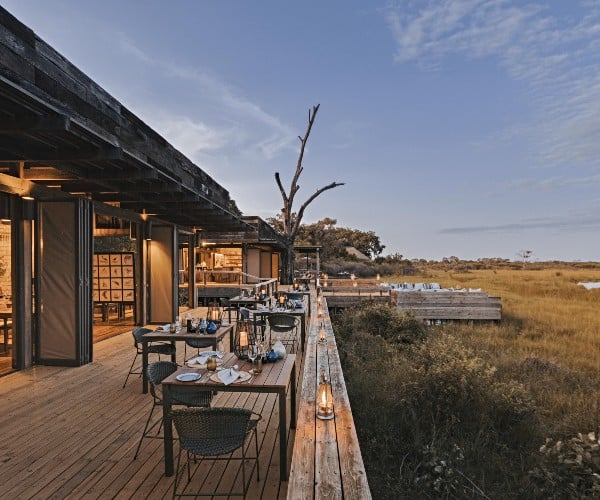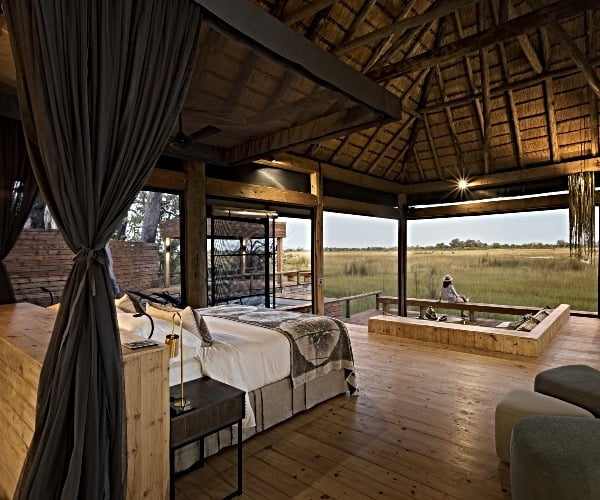 Vumbura Plains Camp is located in the far northern reaches of the Okavango Delta. The annually flooded grasslands of the Okavango Delta surrounding Vumbura Plains, locally referred to as 'melapo,' offer good seasonal wildlife viewing, including elephant, giraffe and buffalo. Hippo and crocodile are common in the waterways, and there are several resident prides of lions and numerous other predators. Birding is exceptional all year round.
Vumbura Plains comprises two separate, but linked camps, with a total of 14 spacious, raised rooms, each with indoor and outdoor showers, private plunge pools and an outdoor area from which you can watch the passing parade of wildlife.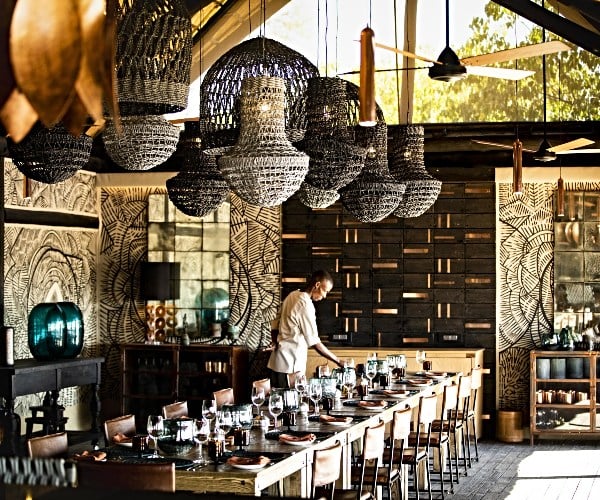 IMPORTANT NOTICE:
If you are reading this article anywhere other than on A Luxury Travel Blog , then the chances are that this content has been stolen without permission.
Please make a note of the web address above and contact A Luxury Travel Blog to advise them of this issue.
Thank you for your help in combatting content theft.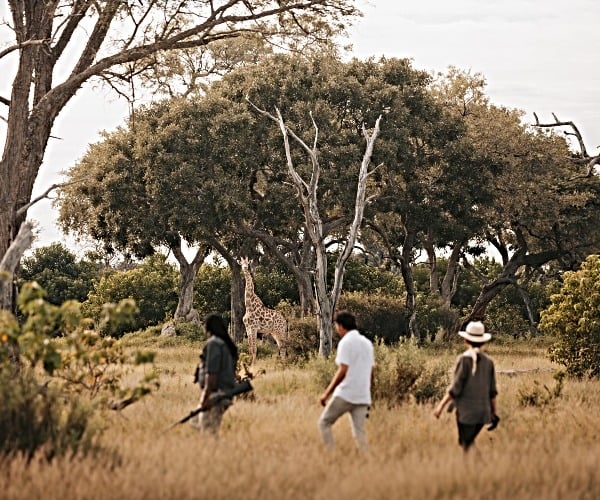 Activities include game drives, walking safaris and boating. Morning and afternoon game drives will bring you up close to thrilling wildlife interactions. Early morning mokoro (dugout canoe) trips are highly recommended; scenic and relaxing these trips are great for seeing brightly coloured bee-eaters, crakes, pygmy geese and a myriad of other birds. Fishing during the flood season gives the opportunity to pursue the highly prized tiger fish.
The lodge is part of the Okavango Community Trust which manages the affairs of the local community. Conscious of its ecological footprint, the camp is largely run on solar power. Sewage and grey water is treated, ensuring only clean water enters the natural environment. Wilderness partners with the Botswana Lion Genetics Study and the Pack for a Purpose initiative, which encourages visitors to save space in their suitcases to bring supplies that benefit local people.
Blissfully isolated and accessed only by air, Duba Plains Camp is set in a particularly beautiful corner of the Okavango. The camp lies on an 77,000 acre private concession in the north of the Delta. Predators stalk the forested areas, watching the animals that gathers on the open plains. Night drives offer the chance to spot nocturnal species like the honey badger and aardvark.
Duba Plains prides itself on its extraordinary wildlife experiences with reliable sightings of lion, buffalo, wildebeest, and an array of antelope. Elephant and hippo regularly trudge through camp. The wildlife here is the subject of numerous award winning National Geographic documentaries by founders Derek and Beverley Joubert, including Eternal Enemies which chronicles the battle for survival between lions and buffalo in the area and how each species has adapted to this unusual way of life.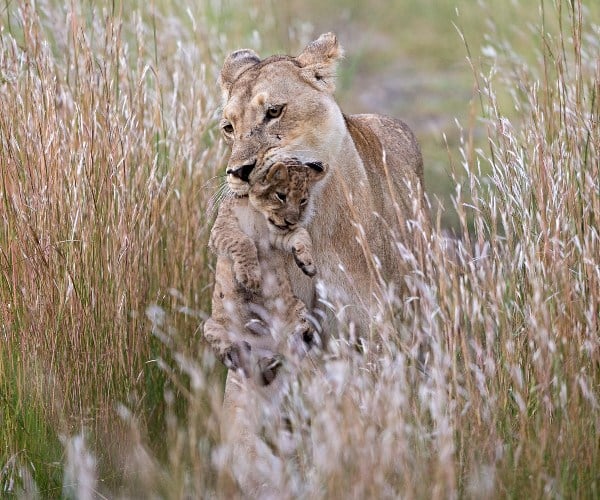 Vintage style, luxurious tented rooms, with just 6 rooms, built in the shade of fig and mangosteen trees and overlooking the Okavango flood plains. Campaign style chairs, oriental rugs, leather armchairs, canopy beds shrouded in mosquito netting and a climate controlled wine cellar, with a few hundred bottles of wine.
In a commitment to the local community, Great Plains lease the land the camp is built on, and locals make up 80% of the staff, putting money directly back into the community. Great Plains also facilitates the Kids Conservation Education Camps project, educating the school children in the surrounding rural communities on all things wildlife and conservation. An exclusive safari destination and a responsible safari choice in Botswana.
The 275,000 acre Linyanti Wildlife Reserve, a safari destination you've quite possibly never heard of, lies in the north-west of the Okavango. Here the Kwando River, Selinda Spillway, Linyanti River and Savuti Channel create a system of river channels and floodplains. Hundreds of miles from so-called civilisation, the Linyanti is one of the most game-rich regions in Botswana, known for its wild dog populations, zebra migration and populations of bull elephants. Most of the lodges here are accessible only by light aircraft.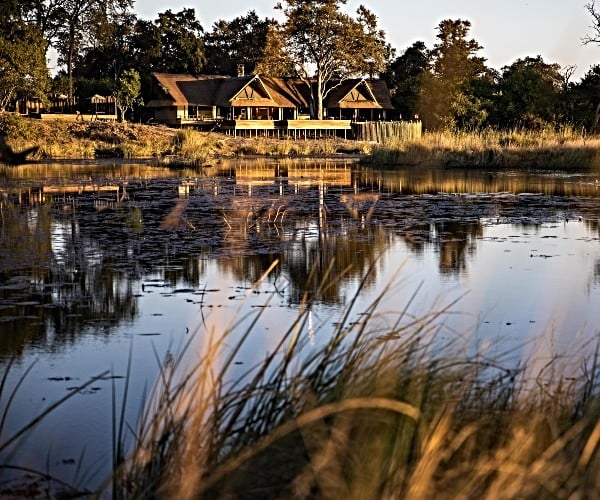 Tucked away in a grove of jackalberry trees, King's Pool camp overlooks an oxbow lagoon on the Linyanti River. The river forms the border between Namibia and Botswana, and King's Pool is at the centre of the important wildlife corridor in the Linyanti Wildlife Reserve. These wildlife corridors straddle Angola, Namibia, Zambia and Botswana and are essential to the success of elephant populations across Africa.
The camp consists of 8 spacious thatch and canvas suites, set on raised decks near the water's edge, and connected by raised wooden walkways to the rest of the camp. King's Pool boasts a sunken hide overlooking a tranquil lagoon, that attracts an impressive array of wildlife and birdlife, especially elephants, who come to drink at the water – seeing an elephant's trunk within touching distance, and being close enough to count its toes, is an amazing experience and the chance to get up this close is particularly exciting for any photographer.
Demonstrating its commitment to sustainable tourism , conservation and community development, King's Pool is a Long Run Alliance member, a global community of nature-based tourism businesses committed to holistic sustainability. Appreciating that one of Botswana's greatest conservation challenges is its large elephant population, Wilderness have also promoted and assisted with the funding of a number of MSc studies focused on researching this issue. In addition, the camp is 100% solar powered, with wastewater treated to ensure it's safe before passing into the surrounding environment.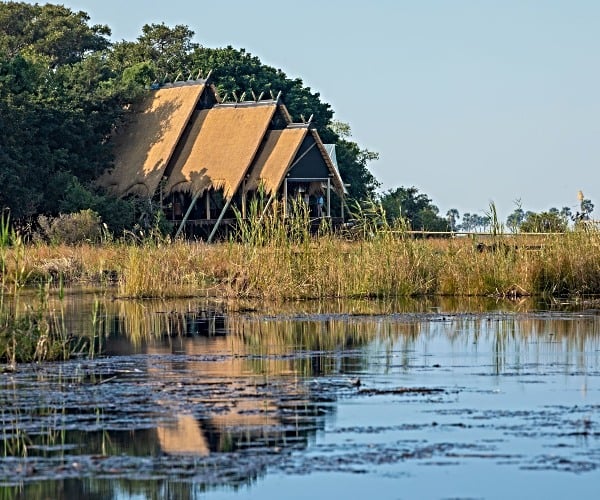 Selinda Camp, in the vast 320,000 acre Selinda Reserve, is one of Botswana's most exclusive camps, and with just three guest tents, one of its smallest. Selinda is Arabic for "the beloved one", and what's not to love here. Game drives, walks, boating, tracking and birding place you amongst some of the best wildlife Botswana has to offer. The nearby Selinda Spillway is home to prides of lions and incredible concentrations of buffalo. It's here the Jouberts filmed Birth of a Pride – a story of survival, of lions returning to an area where they'd once been hunted to near extinction.
The camp's spacious, luxury tents, sit below cooling thatched roofs and feature ensuite bathrooms and private verandas with a swimming pool and hammock. The camps main dining and lounge area has spectacular views out over the lagoon.
Selinda Camp has achieved the Botswana Tourism Organisation's highest rating for "EcoTourism", as well as being named one of the world's Top 100 Sustainable Destinations. Eco practices in camp include the use of bio-digesters converting vegetable scraps into methane cooking gas, composting, greywater recycling, the use of recycled hardwood in camp construction, and the elimination of single-use plastic.
A journey to Botswana exposes one not only to new landscapes, cultures and experiences, but also to new ways of viewing the world and our place in it. A safari can be sustainable, it just needs to be done right.