The East Coast of Australia stretches over 4000 kilometres. If you drive from Cairns in Tropical North Queensland to Melbourne in Victoria, it would take approximately 30 hours. This stunning stretch of coastline is filled with astonishing places, many of which you may have already heard of.
From the glamour of Australia's largest city, Sydney, the ancient rainforest of the Daintree, and the Great Barrier Reef to the beautiful beaches of Byron Bay and the vibrant city of Brisbane. There is so much to discover in this magical part of the world. Do you prefer to get off the beaten track, and explore away from the crowds?
Here are 9 local gems to explore along the East Coast of Australia.
Sunshine Coast Hinterland
You may have already heard of the Sunshine Coast or Noosa, but did you know just slightly off the coast is the Sunshine Coast Hinterland? A natural wonderland filled with cute and colourful towns, national parks, wineries, and friendly locals. Whether you would like to have close encounters with Australian wildlife or enjoy award-winning restaurants, the Sunshine Coast Hinterland has it all.
Montville is a charming town, nestled beside the Blackall Range. An ideal destination for experiencing the laid-back Aussie lifestyle in style. Montville is bursting with local art, boutique stores, art galleries, and local cafes. Nearby, you will find Kondalilla National Park, the perfect place to enjoy a picnic, hike, or cool off under a natural waterfall.
Lord Howe Island
Approximately, 600 kilometres off the East Coast of Australia in New South Wales , you will find the World Heritage-Listed, Lord Howe Island. Created over seven million years ago, discover an array of pearly white beaches, rare flora and fauna, subtropical forests, aquatic animals and seabird colonies.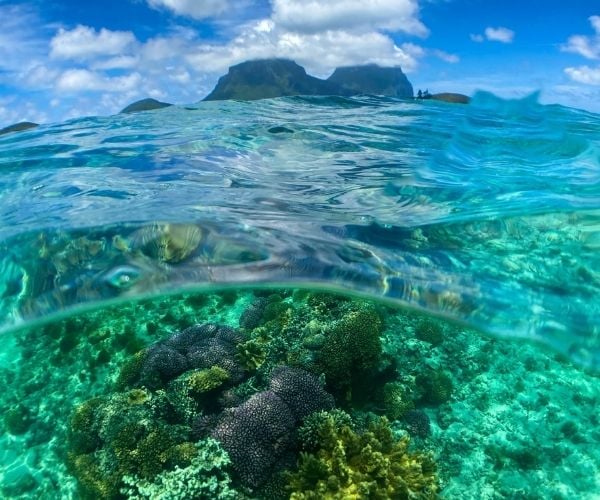 Renowned for its large range of day hikes, Lord Howe Island is perfect for travellers who love to get active in nature. If you are searching for a challenge, why not conquer the highest mountain on the island, Mount Gower? If you prefer to take it slower, snorkel amongst the coral reef or hand-feed fish at Ned's Beach.
North Stradbroke Island
Known by the locals as 'Straddie', this gorgeous island is located off Brisbane. Take a 25-minute water taxi from the bayside suburb Cleveland or Redland Bay. Once you arrive, make your way from the township of Dunwich to the other side of the island and marvel at the beauty of Point Lookout. Keep an eye out for whales or playful dolphins in the Pacific Ocean.
Take a walk along the coastline, and discover the secluded Deadman's or Frenchman's beaches. Go for a swim at Cylinder Beach. Enjoy fish and chips with the ocean as your backdrop. Go on an adventure and visit Brown Lake or Blue National Park, one of the world's most ecologically important wetlands.
South Stradbroke Island
A car-free island located off the Gold Coast, South Stradbroke Island is one of Queensland's best-kept secrets. Picture a sky filled with stars, no traffic, long stretched beaches all for yourself and kangaroos at your back door. This 1800-hectare conservation park is an ideal destination for beach and nature lovers.
Start your day with a sunrise over the Pacific Ocean. Then choose from a variety of activities – beach fishing, surfing, hiking, cycling , paddle-boarding, kayaking or canoeing. Keep an eye out for the 200 species of birds living on the island. If you're lucky you may also spot dugongs, turtles and humpback whales (between June and October). On land, you may have a close encounter with echidna, bandicoots and other mammals!
Crescent Heads
On your journey along the East Coast of Australia, be sure to pop by a small and quaint coastal town, Crescent Heads. Located 340 kilometres northeast of Sydney, this place is oozing with laid back vibes and Aussie no worries mentality. Known for being one of the best-surfing destinations in the country. Local surfers have been visiting here since the 1950s.
As well as amazing surf breaks and beautiful beaches, you will find lush national parks which are perfect for hiking. It is no wonder that this Aussie town is a favourite spot for local families to holiday. Keep an eye out for whales and other marine wildlife. Play a game of golf with the ocean as your backdrop. Or simply lay on the beach with your favourite book.
Gold Coast Hinterland
The Gold Coast is well-known for its famous theme parks and Surfers Paradise but did you know that 30 minutes off the coast, is a natural haven waiting to be explored. The Gold Coast Hinterland is the perfect destination for hikers, wine lovers and luxury travellers. Discover picturesque mountain rainforest, waterfalls, wineries, ancient attractions and unique wildlife.
Uncover the secrets of Lamington National Park. With over 160 kilometres of walking tracks, there are plenty of opportunities to connect with nature. Enjoy a picnic at Springbrook National Park, or visit Tamborine Mountain and sample the local wine. This part of Australia offers one-of-a-kind experiences.
Scenic Rim
Recently named the Lonely Planet's Top 10 Region and Best in Travel 2022. The Scenic Rim is quickly becoming one of Australia's most sought destinations and it's no wonder why! A place featuring no less than six national parks, rugged mountains, rare flora and fauna and natural swimming pools. Be welcomed by the friendly locals and enjoy a variety of activities.
Hike, swim, fish, dive, snorkel, canoe, kayak or simply relax in a hammock. Take a scenic drive and visit a local's favourite, Mount Barney National Park. A World Heritage-Listed rainforest area with a history that dates back approximately 24 million years. The Scenic Rim is truly a special place, bursting with things to do and see.
Lennox Heads
You have probably heard of Byron Bay which is often overcrowded but did you know that a little further south is a stunning coastal town called Lennox Heads? Just 15 minutes drive from Byron Bay, soak up the New South Wales coastal lifestyle without all the tourists. This charming seaside town features world-class surf breaks, spectacular wide-stretched beaches, a tea-tree lake, friendly cafes and a classic waterside Aussie pub.
Pack a picnic and head to Lake Ainsworth, an ideal place for families. Here, you can also take advantage of the outdoor barbecue facilities on offer. Take a wander along Seven Mile Beach, a long stretch of beach that takes you north to Broken Head. Along the way, keep an eye out for cheeky dolphins surfing the waves and between May and November, you can spot whales on their annual migration.
Rainbow Beach
Fraser Island is world-famous and attracts tourists from all over the world. But if you prefer to travel away from the mainstream, Rainbow Beach is the place for you. The entry point to the 41,000 hectares, Cooloola National Park and the southern gateway to the World Heritage Listed Fraser Island. This sub-tropical coastal town is ideal for travellers who seek adventure and love the beach.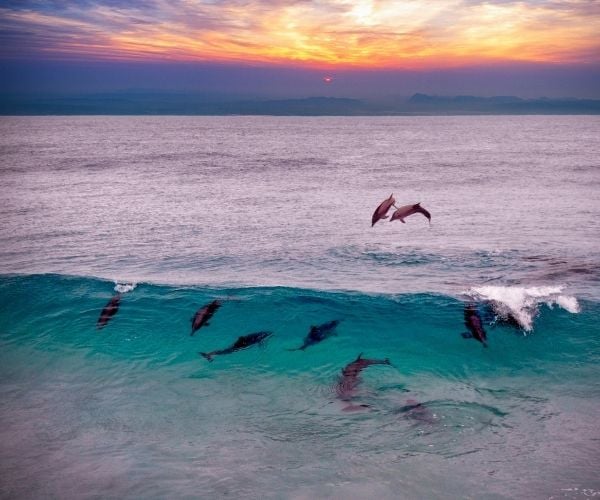 Go on a 4WD adventure
To reach Rainbow Beach, you will need to embark on the 380-kilometre Great Beach Drive by 4WD. If you prefer to take it easy, it is also possible to take a guided tour. Along the way, spot an assortment of Australian wildlife including whales, dolphins, dugongs, kangaroos, and dingoes.
Once you reach Rainbow Beach, one of the main attractions is to admire the coloured sands. A natural art gallery that has formed over time. Iron-rich minerals have stained the sand with a complex array of yellow, red and brown tones. And the bright white sand has been leached of all nutrients. A spectacle of nature.
Which local gems are on your travel wish list?
Andrew Morten is Founder of A Journey DownUnder . A Journey DownUnder creates bespoke, tailored trips to Australia and New Zealand.
If you would like to be a guest blogger on A Luxury Travel Blog in order to raise your profile, please contact us .