Home to the world-renowned Cabot Trail, dramatic coastal views, highland scenery and Bras d'Or Lake – Canada's largest in-land saltwater sea – Cape Breton Island continues to be the number one island in Canada.
Previously named as number one island in the Americas by Condé Nast Traveller, Cape Breton has recently been awarded No. 1 island in Canada (4 years in a row) by Travel and Leisure 2021 World's Best Awards. We have shortlisted here some of the experiences we love about this place filled with outdoor adventure and the freshest seafood imaginable.
Take in an impressive view of the Cabot Trail along the Skyline Trail in Cape Breton Highlands National Park . A dramatic headland cliff overlooks the rugged coast from the end of this level trail. You can enjoy an eagle's view of the Cabot Trail as it winds its way down the mountain and vehicles look like toys. Watch for whales in the Gulf of St. Lawrence from the viewing decks. Moose, bald eagles, bears and numerous boreal birds also live in this habitat and it's not uncommon to encounter wildlife along the trail (but please be respectful of their home!). Hiking Time: 1.5–3 hours. Length: 6.5 km (4 mi) return; 8.2 km (5.1 mi) loop.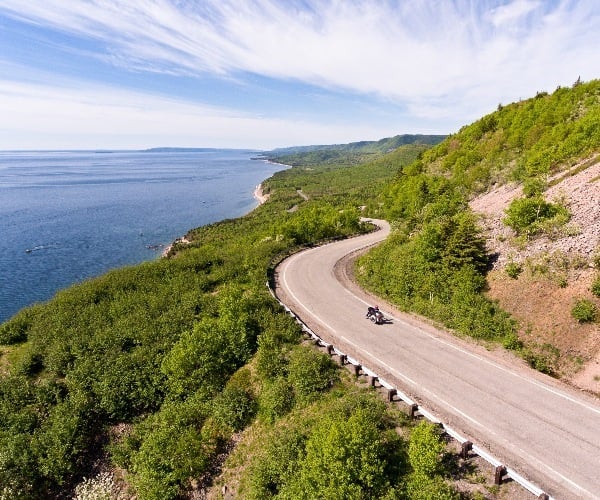 Walk, hike or bike the Celtic Shores Coastal Trail. Part of the Trans Canada Trail and the International Appalachian Trail, this is a 57 mi/92 km multi-use trail, along a former rail bed, stretching from Port Hastings to Inverness on the west coast of Cape Breton Island. Great for long-distance trekking, the easy, flat trail meanders along the coastline, through picturesque wilderness, connecting several communities and attractions that showcase the area's vibrant Celtic culture. Along the way, you'll discover active fishing harbours, warm-water beaches, and some of the best live Celtic music on the island!
Connect with a land that is filled with memory at Fortress of Louisbourg National Historic Site. Surrounded by Cape Breton's rocky shoreline, the fortress is the largest historical reconstruction in North America and brings you back to French colonial life between 1713 and 1758. The home of the Mi'kmaq, the 18th century brought French, Basque, German, English, Irish, Scottish, and African people to its shores. Immerse yourself in this diverse history whilst exploring a beautiful coastal landscape. Take in the looming fortifications, kitchen gardens, and elegant houses of the reconstruction; dine in 18 th century style; wander original ruins for a full experience of the past coming to life.
Visit www.novascotia.com for more information about Nova Scotia things to do , places to stay and up-to-date travel information, including Covid-19 travel-related details.